The BRT Converter Drive was invented, racetrack proven and perfected in late 1989 by Bruno's Automotive. In February 1992, the US patent office awarded the BRT Converter Drive US patent #5090528 for its unique innovative design. The BRT revolutionized the industry by giving racers a safe, consistent, yet reliable alternative to the conventional to the automatic transmission. While routinely harnessing in upwards of 4,000 hp, the BRT allows racers to consistently manipulate less than ideal racetracks with zero between round maintenance.
Magnesium although expensive, is much lighter than aluminum. That is why Bruno's once again goes above and beyond, as all new BRT Converter Drives now come with magnesium main housings standard! The combination of magnesium and billet aluminum components allow us to offer the absolute lightest unit in the industry.
Our air operated transbrake is one of the unique features that sets the BRT apart. Massive holding power prevents "creep" at the starting line, while offering the quickest release time in the industry. It's also more consistent than a hydraulic transbrake brake. With hydraulic applications, when fluid temperature varies, release time varies. With air, release time isn't affected by heat. Take a moment to look at some of the other BRT patented features and you'll see why the BRT Converter Drive is the only unit of its kind to be racetrack proven with world records, championships and national event wins.
The BRT's 30-year track record is a testament to the proven reliability that Bruno's offers. Our goal has always been to sell a customer one BRT Convert Drive Unit, not replacement parts every week. Ask your current automatic transmission provider how often their unit has to be serviced? Can you do it yourself at the track or do you have to send it back to them for an expensive service charge? As you know, failures never happen at a good time!
Before making an investment in your racecar, ask yourself, do I want to purchase a product from the innovators that actually created it or the unscrupulous people that simply tried to copy it?
Available options:
Lockup option – our in-house lockup design utilizes hydraulic pressure to achieve actual 1:1 lockup.  You can order new units with the Lockup option or convert your existing unit!
Dual stage pressure assembly – Designed primarily for turbocharged applications, allows for ease of "spool up." 
Weight saving options – Upgrade to Magnesium billet top cover, Lightweight drum assembly, lightweight pump housing, etc.
Oil Pans:
Large Billet aluminum Pan- 2-quart extra capacity over standard size pan
Fabricated Sheet Metal Pan– 5-quart extra capacity over standard size pan, rubber O-ring  eliminates need for gasket.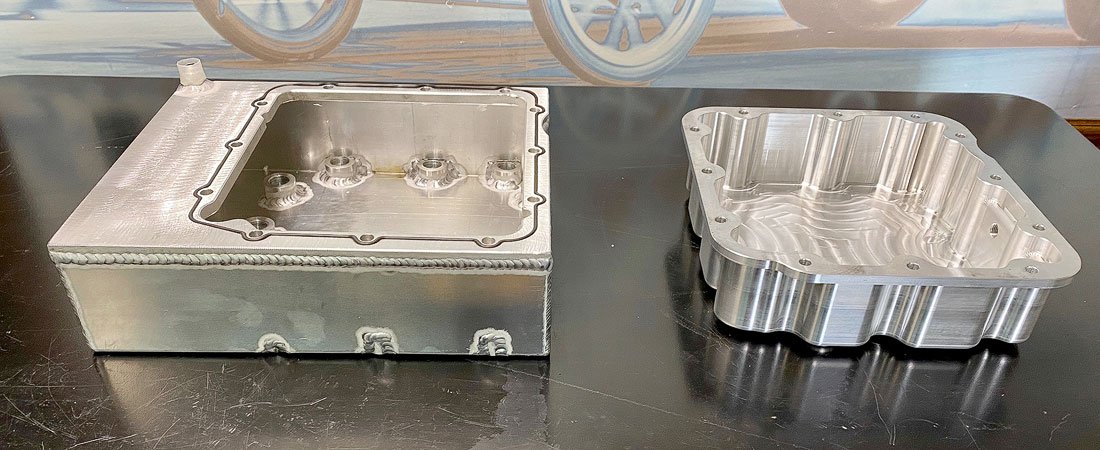 Bruno's Performance Transmission Fluid
This synthetic ATF is designed specifically for use in high horsepower automatic transmissions.  With higher viscosity than conventional transmission fluids and no slipperiness additives, you can expect greater torque converter efficiency and enhanced protection at high temperatures.  Extensive in-house testing has also shown less wear on pump gears, bands and a noticeable increase in transmission performance.